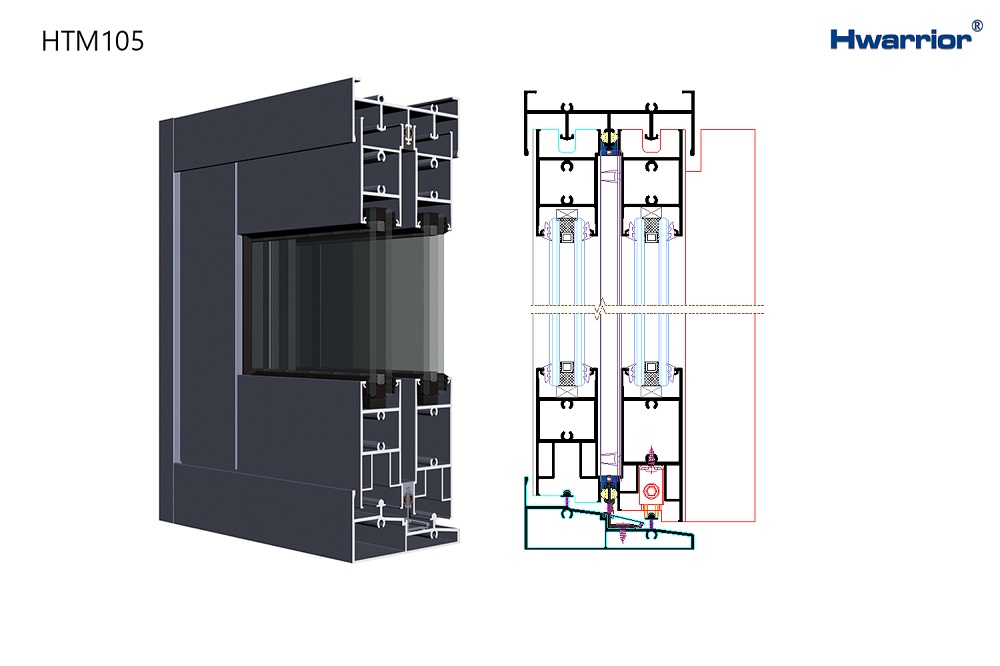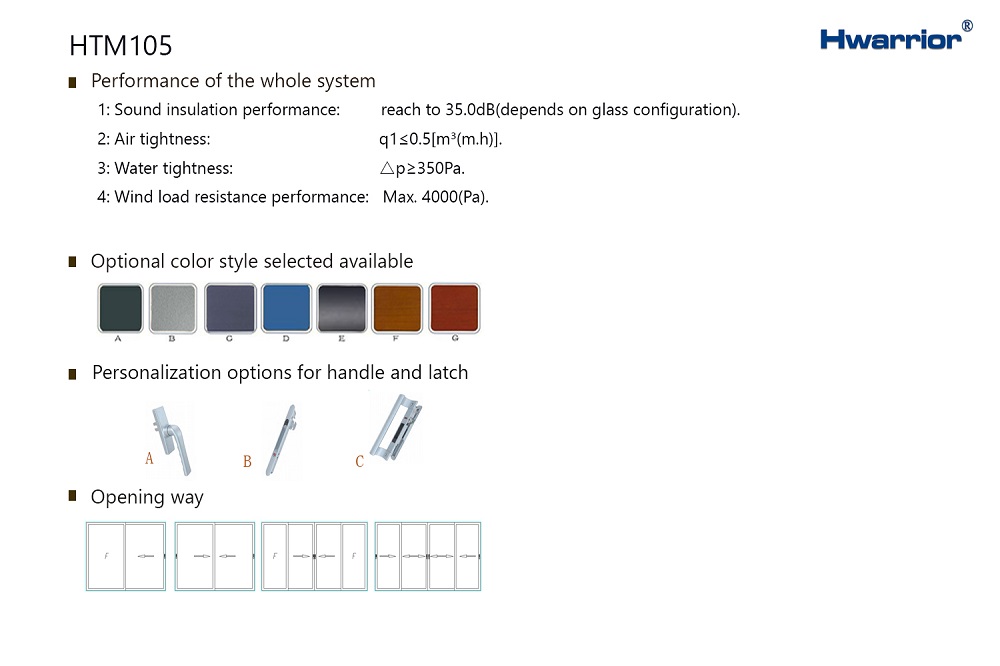 HTM105 series sliding door
Product description
HTM105 series sliding door provides an integrated and comprehensive solution for buildings, which adopt special seal design to solve leaking problem resulting from unstable framing spliced and silicone injection;
In addition, rubber seal strip is applied between active sash and side framing to enhance the sealing performance of moving parts; Multistep drainage structural design of sliding glide improving overall water tightness as well.
This series product is suitable for residential/villa/hotel where near coastal areas.
Performance of the whole system
Water tightness performance: adopt special seal parts and rubber seal strip design, multistep drainage structural design of sliding glide to improve overall water tightness;
Wind load resistance performance: providing reinforced sash profile with stronger structural strength to meet design requirement of opening a greater percentage.
Air tightness: The rubber strip sealing structure can greatly improve the airtight performance by effectively preventing dirty air from entering the room
Sound insulation performance: excellent sound insulation effect can be achieved by using double layer insulated glasss.
Design & Engineering
First of all, we understand the technical input in design development is very important for a project buildings . we have enough experienceand specialize in providing comprehensive design-assist and design-build services and barget from the beginning . Our Engineering team will make a professional calculation base on the Local Wind Load and exact building construction condition , and materials requirements to make a flexible design solutions to meet our client's expectations.
For all building facade projects, curtain wall systems, unitized curtain walls, aluminium windows & doors system basic info are:
Elevation drawing ,
Plan drawing ,
Section drawing ,
Local wind load .
Manufacturing
Qualified materials and good manufacturing are very important for a good project ,our processes have been certified by ISO 9001 standards. Our facilities include adjacent design and production areas, contributing to the dynamics of innovation and collaboration by partnerships with material vendors and product suppliers.
All quality control tests are carried out by independent third parties as per the client's requirements, manufacturing process goes through rigorous quality control exercises both by human and computerized testing.